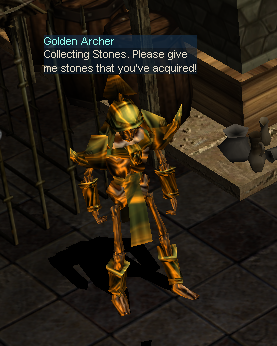 Golden Archer Location: Lorencia (130x118)

ATTENCION! REMEMBER TO HAVE ITEMS ONLY
FOR ONE EXCHANGE IN INVENTORY !
WE NOT REFUND ITEMS!

UWAGA! PAMIETAJ ZEBY MIEC W INVENTORY
ITEMY TYLKO NA JEDNA WYMIANE!
NIE BEDZIEMY ZWRACAC ITEMOW!
1. Exchange Remedy of Love:
Formula MIX: 64 Remedy of Love
Reward: 150 WcoinC!

2. Evolution Book
Formula MIX: 30 Lucky Coin + Bundle Jewel of Bless (30)
Reward: Evolution Book
3. Evolution Stone
Formula MIX: 30 Lucky Coin + Bundle Jewel of Soul (30)
Reward: Evolution Stone
4. Blue Wolf
Formula MIX: 3x Red Wolf + Jewel of Full + Evolution Book
+ Evolution Stone
Reward: Blue Wolf
5. Medusa Summon Scroll
Formula MIX: 30 Lucky Coin + 10x Condor Flame
+ Critical Dmg Scroll
Reward: 1x Medusa Summon Scroll
6. Selupan Summon Scroll
Formula MIX: 20 Lucky Coin + 5x Condor Flame
+ Telleport Ally Scroll
Reward: 1x Selupan Summon Scroll
7. Kundun Summon Scroll
Formula MIX: 15 Lucky Coin + 3x Condor Flame
+ Soul Barrier Scroll
Reward: 1x Kundun Summon Scroll
8. Golden Tantalos Summon Scroll
Formula MIX: 8 Lucky Coin + 3x Condor Flame
+ Summon Scroll
Reward: 1x Golden Tantalos Summon Scroll
9. Skeleton King Summon Scroll
Formula MIX: 15 Lucky Coin + 5x Condor Flame
+ Firescream Scroll
Reward: 1x Skeleton King Summon Scroll
10. Mega Salamander Summon Scroll
Formula MIX: 8 Lucky Coin + 3x Condor Flame
+ Chain Lightening Scroll
Reward: 1x Mega Salamander Summon Scroll
11. Mega Knight Summon Scroll
Formula MIX: 15 Lucky Coin + 3x Condor Flame
+ Ice Storm Scroll
Reward: 1x Mega Knight Summon Scroll
12. Mega Reaper Summon Scroll
Formula MIX: 15 Lucky Coin + 3x Condor Flame
+ Decay Scroll
Reward: 1x Mega Reaper Summon Scroll