1 GR = PET PANDA (3 DAYS)
5 GR = GOLDEN FENRIR
10 GR = WINGS 3LVL FULL
15 GR = UNIQUE MAXIMUS SET+15+28+FO+HARMONY OPTION
20 GR = SET UNIQUE MAXIMUS SAFE BONUS* (read below)

If you have 15GR please contact us on PM!

*(Attention! 20GR = Set goes to the next edition, but is + 0 +L + only exe zen option!
I add set manually to your account on next edition!
Set must place on your account in inventory or /wh0 on end edition)
Remember if you go to exchange class Blade Master you obtain
wing/set to Blade Master. If you go class Soul Master you obtain wing/set
to Soul Master! Etc.
You obtain wing/set who class go to exchange!
We not exchange if you go wrong character!

If you have requiments GR go to Lorencia (139x137).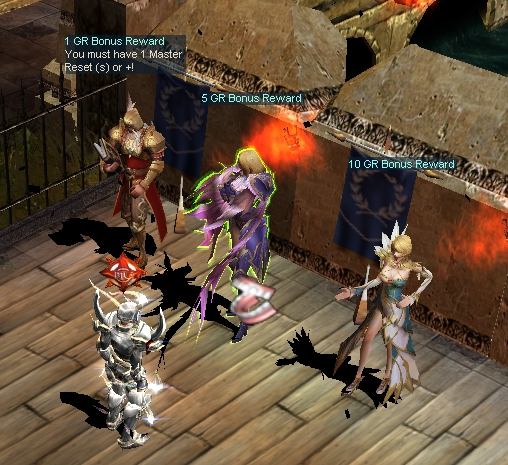 You find on this cord a few NPC:
- 1 GR Bonus Reward
- 5 GR Bonus Reward
- 10 GR Bonus Reward