Auction System is new custom event on server. Is totally automatic event.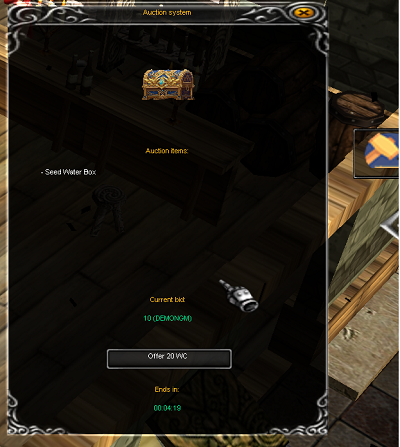 Auction event time:
ONLY ON SUB PVP!

Auction for Goblin Points:
-Everyday at 7:40PM (19:40)

Rewards:
Monday: Helms Box
Tuesday: Armors Box
Wednesday: Pants Box
Thursday: Gloves Box
Friday: Boots Box
Saturday: Weapons/Shields Box
Sunday: PREMIUM WOG BOX
The event time is 10 minutes and ends randomly in the last seconds.
The bid time the auction is 1 minute, if there is no offer within this time,
the event will end.

The bid value is 5.
DROP LIST:

HELMS BOX:
Dragon Knight Helm ,Venom Mist Helm, Sylphid Ray Helm,
Sunlight Mask, Storm Blitz Helm, Lilium Helm, Brave Helm,
Divine Helm, Hades Helm, Ambition Mask

ARMORS BOX:
Dragon Knight Armor ,Venom Mist Armor, Sylphid Ray Armor,
Volcano Armor, Sunlight Armor, Storm Blitz Armor, Lilium Armor,
Brave Armor, Phantom Armor, Divine Armor, Hades Armor, Ambition Armor

PANTS BOX:
Dragon Knight Pants ,Venom Mist Pants, Sylphid Ray Pants,
Volcano Pants, Sunlight Pants, Storm Blitz Pants, Lilium Pants,
Brave Pants, Phantom Pants, Divine Pants, Hades Pants, Ambition Pants

GLOVES BOX:
Dragon Knight Gloves ,Venom Mist Gloves, Sylphid Ray Gloves,
Volcano Gloves, Sunlight Gloves, Storm Blitz Gloves, Lilium Gloves,
Brave Gloves, Phantom Gloves, Divine Gloves, Hades Gloves, Ambition Gloves

BOOTS BOX:
Dragon Knight Boots ,Venom Mist Boots, Sylphid Ray Boots,
Volcano Boots, Sunlight Boots, Storm Blitz Boots, Lilium Boots,
Brave Boots, Phantom Boots, Divine Boots, Hades Boots, Ambition Boots

WEAPONS/SHIELDS BOX:
Bone Blade, Explosion Blade, Cyclone Sword, Asura, Soleil Sceptor,
Thunderbolt, Sylph Wind Bow, Angelic Bow, Grand Viper Staff, Storm Blitz Stick,
Summon Spirit Stick, Inberial Staff, Crismon Glory Shield, Light Lord Shield,
Dark Devil Shield, Magic Knight Shield, Ambition Shield


PREMIUM WOG BOX:
Wing of Storm Full, Wing of Eternal Full, Wing of Illusion Full,
Wing of Ruin Full, Cape of Emperor Full, Wing of Dimension Full,
Red Fenrir, Rare Item Ticket 5, Jewel of Full,